TRIAX offers products for building combined fibre-optic and coax cable networks End to End – from Headend to In House outlet. Our platform strategy and field-proven products enables us to incorporate customer specific demand and ensure that we can adjust to be compatible with future evolving network requirements.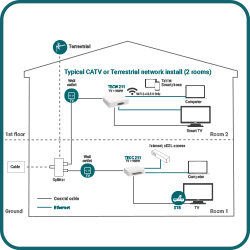 Docsis 3.1 compliant and operator approved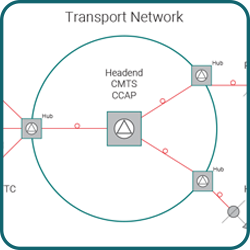 The market-leading IP-pool technology from TRIAX simplifies construction and management
In House Coax distribution
With the exploding need for Internet bandwidth the frequencies in the network goes up, at the same time traffic from mobile phones, IOT devices etc. goes up and risk of interference increases.
These two factors in combination sets higher demands to the quality of all components in the cable networks.
For this reason many operators require use of approved and white listed components all the way to the outlet, for them to be able to guarantee "good quality signals".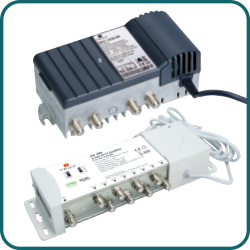 Operator approved Docsis 3.1 ready Distribution amplifiers with leading electrical performance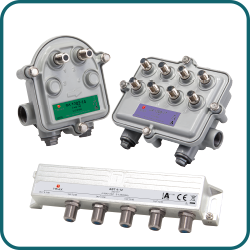 Operator approved Docsis 3.1 ready enhanced program of Taps & Splitter for In House and distribution cabinet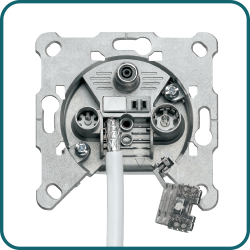 Operator approved Docsis 3.1 ready outlets with switchable and fixed upstream filters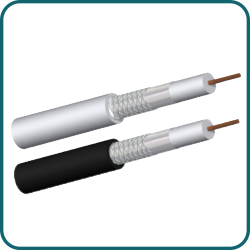 Complete range of Operator approved coax cables and connectors that secure no interference.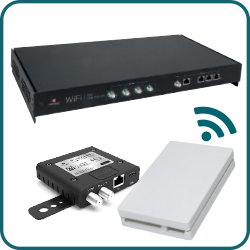 Reducing cost in enabling fast Internet connection by reusing the existing coax cabling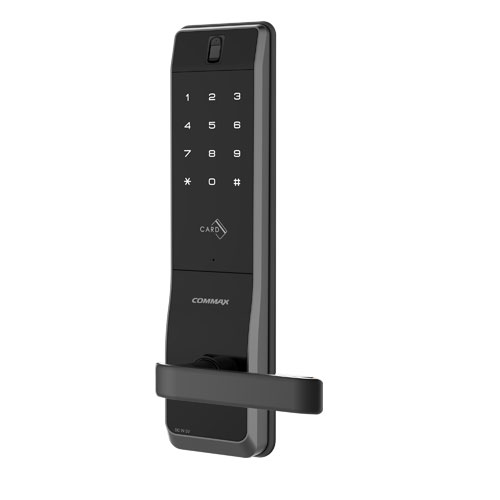 Smart DoorLock is an access control system with proven safety, usability and leading design for your home security.
In House Distribution amplifiers
TRIAX provides a wide range of Operator approved Docsis 3.1 ready Distribution amplifiers. Though as the standard products would cover most applications, we are ready to discuss your specific needs, and as we build on robust platforms, we are flexible to accomplish specific needs. All are produced in Denmark
Broadband Amplifiers for CATV / SMATV amplify the full signal range of a cable TV network to compensate for the attenuations of the passive distribution components like cable, taps, splitters and subscriber outlets in the network.
The amplifiers are specially designed for transmission of a large number of channels with low intermodulation and low distortion.
The amplifiers for CATV networks consist of a forward path for the downstream signal, and the option to use a return path for up-streaming of the DOCSIS signal to implement Fast Internet Access.
Taps & Splitters
TRIAX provides a wide range of Operator approved Docsis 3.1 ready Taps and Splitters.
The 'Bonita' series of taps and splitters is especially designed to connect drop cables in a CATV network distribution cabinet.
The highly robust F-connectors fit the enclosure of the tap or splitter, allowing the connection of thicker trunk cables such as the RG 11 directly onto the device.
The unique form factor, with all ports in one line and on one side, saves on the space required in the cabinet for cabling, and reduces installation time and effort.
Outlets
TRIAX provides a wide range of Operator approved Docsis 3.1 ready wall outlets.
As the demand for ever higher bandwidth grows, users expect a high quality, reliable service from their CATV provider.
At TRIAX we're proud to have developed an outlet solution that exceeds technical demands while making the installation process a breeze. We're taking the pain out of your network upgrade.
Our expanded frequency range (up to 1.8 GHz) gives you all you need to exploit the blistering data speeds of future DOCSIS 3.1 network upgrades, whilst supporting today's standards.
All outlets are produced in Denmark.
Coax cables and Connectors
Superior quality cables and cost effective for the most demanding networks.
TRIAX cables are designed to meet the standards of today and the network demands of tomorrow.
Specially crafted and highly shielded to minimize interference, each one has been meticulously updated and rigorously tested to conform to the EN50575 fire safety standard.
Ethernet over Coax
Reuse existing coax cables to add reliable 1Gbps IP network services for digital entertainment in the hospitality sector.
Costs and disruptions are kept to a minimum, as new cables do not have to be installed. Watch IPTV services through the new TRIAX EoC MediaConverter while maintaining DVB signals.
Excellent for last mile distribution within Hospitality buildings of MDU's where a coax network is already existing.
The variety of endpoints ensure high flexibility and provide both with and without build-in WiFi.
Read our EoC brochures, or explore the endless possibilities with our complete EoC product range in the EoC area of our website.
Modular Headends
The TDX and TDH 800 headend systems from TRIAX have changed the way TV and signal processing is being managed. The market-leading IP-pool technology from TRIAX radically simplifies the construction and management of headends.
This technology makes the input and output modules mutually independent. All input signals, regardless of whether they are received via satellite, terrestrial, cable, audio/video or via the Internet (depending on headend type), can be flexibly and independently distributed from a "pool" to each and every output module. Each of these input signals can be converted to any output signal: PAL, QAM, COFDM or IP.
An input signal can be assigned to several output modules to support different output modulations. Assigned twice in the same modulation is only possible when the input signal is used two times provided in the pool.
The range of options leaves no wish unfulfilled.